I know I said I was going to write something about the Festival of Arts (19 on my bucket list), but I'm not. Instead, I'm going to tell you a little about Andrew Myers, one of my favorite sculptors and hands-down my favorite thing about the Festival of Arts in Laguna Beach.
I first saw Myers' work at this festival three years ago. I was with Madelyn and my grandma Nora. My favorite piece of his that I saw there is impossible to find, but it was of a business man with a glass window in his chest. Behind the glass hung his red heart. He held a hammer, and beneath the window were the words, "Break glass in case of emergency."
"Life's Unexpected Moments," is my mom's favorite: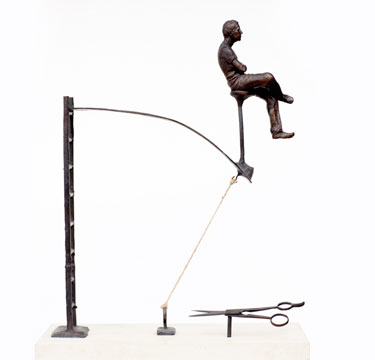 (photo: Andrew Myers Art)
The majority of his work is sort of philosophical and interesting. My favorites are the metaphorical ones, because they attempt to say something genuine and universal about life. Visit his website
here
.